>
Home
>
About Us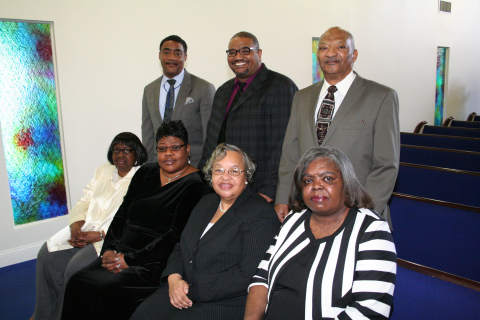 BACK ROW:
Minister Preston Boyd is the most recently ordained minister at New Image Community Baptist Church. He is the Director of the Men's Ministry; oversees the Station of Hope Ministry; is a member of the Male Chorus, Couples' Ministry, and Outreach Ministry.
Minister Marcus Dorsey is the Director of the Young Adult Ministry and also works closely with 1st Lady Christina Garner in the Youth Ministry.
Elder Harvey E. Reedy is the Assistant Pastor.  Please see "Meet our Assistant Pastor" for more information.
FRONT ROW:
Minister Virginia Guiles affectionately called "Mother Guiles" is the Director of the Intercessory Prayer Ministry, and a former Director of the Culinary Committee.
Elder Terri Lamar Smith is the Overseer of various ministries of New Image Community Baptist Church.
Minister Julia Plummer is the Director of the Children's Ministry and the Director of the Alcohol Drug Abuse Ministry.  Minister Plummer also preaches at The Walker House Senior Citizen Facility that is owned and operated by the church.
Minister Annie Turner serves as the Director of the Outreach Ministry that serves the community by providing free clothing, health fairs, and church services at a local nursing facility.