>
WELCOME
>
Ministries

"Do not despise thy youth: but be thou an example of the believers, in word, in conversation, in charity, in spirit, in faith, in purity."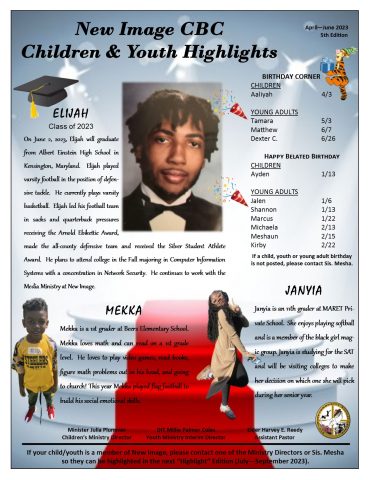 The mission of the Youth Ministry is to assist our youth in the transition from adolescence to adulthood by teaching the principles of God's word for living a saved and sanctified lifestyle.
The purpose of the Young Adult Ministry is to connect young adults:
To Jesus Christ

With the church

With the church's mission

With youth and mature adults in Christ
The goal of the Youth and Young Adult Ministry is to establish a biblical foundation that is rooted and grounded in the Word of God to empower young people in their transition into adulthood to live a holy and sanctified lifestyle that is both pleasing to God and respect by man.
The transition into young adulthood can be a very challenging and difficult period for young people.  They need to know that the Word of God speaks to each of their issues and concerns by providing a victorious response to the pressures of choosing a marriage partner, education and career decisions, resolving family conflicts, avoiding illicit drug use, sex, and handling independence.
The Youth and Young Adult Ministry fellowships with the seniors of The Walker House, on the 3rd and 4th Sundays respectively. (***NOTE: Due to the pandemic, worship services at The Walker House have been postponed.  Be on the lookout for future service announcements.***)