>
WELCOME
>
Ministries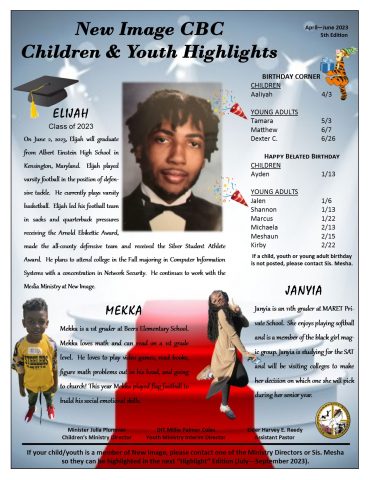 RAISING A CHOSEN GENERATION
The Children's Ministry recently began ministering on the streets every 2nd and 4th Sunday at 9:30 a.m.  They wanted to "show the community that children CAN have fun while praising the Lord!"
The Mission of the Children's Ministry is to teach our children the love of Christ and the joy of His forgiveness and salvation, to help them learn the truth of His Word, and to encourage their growth within the body of Believers.
Children's Bible Study
Ages 4-12
every Tuesday night, 7:30-9:00 PM
Children's Church
Ages 4-12
2nd and 4th Sundays of each month
Children often feel a part of a Sunday school class or a church program, but if they do not identify with the whole church.  We are setting ourselves up for future failure.  Making children feel welcomed and building relationships with adults can contribute to the children's spiritual growth, as well as, making them less likely to leave the church as a teen or young adult.
What is a child's place in the church?
It is simply to be cared for and taught.  A church that does not place a high value on children may stunt its own growth.  Every member between the ages of 4-12 is in the Children's Ministry.  Each time an adult speaks to (or ignores) a child at church, he is sending a message.  When someone greets a boy or girl with a friendly, "Good morning," or "Let me help you," you are saying children are welcome here.
Lo children are a heritage of the Lord: and the fruit of the womb is His reward.
For more information on the Children's Ministry, contact Minister Julia Plummer, Children's Ministry Leader, at 202-889-3067 ext. 109